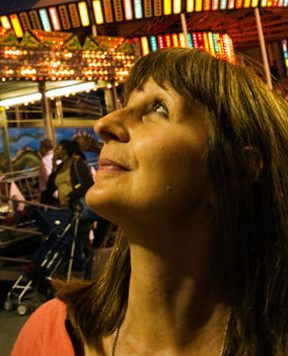 Artist Philomena Marano is a daughter of Brooklyn who relocated to Sarasota, Florida in March, of 2017. She holds a BFA from Pratt Institute, is an intimate of the visual poetry of the city she grew up in , created the winning poster for the first Spirit of Brooklyn poster competition, and is a master of papier collé, the elegant cut paper technique she learned as a studio assistant to preeminent artist Robert Indiana.
Marano's acclaimed series, "American- Dream-Land," a decades-spanning project of papier collé originals and limited edition prints, penetrates the soul of Coney Island to reveal its twin promises of candy-colored paradise and gritty raw excitement. Her ornate compositions are cut out of "color-aid" paper – a type of paper coated with vibrant screen printers ink, the same paper which Romare Bearden frequently incorporated into his collages.
She has been exhibited by Tabla Rasa Gallery, ACA Galleries, Prince Street Gallery, Smart Clothes Gallery, the Municipal Art Society, the Museum of the City of New York, the Bronx Museum of the Arts, and the Coney Island Museum among others in the New York area and at the George Krevsky Gallery in San Francisco. She is represented in private, corporate and museum collections including the Brooklyn Museum.
Marano's work as a co-founder of the Coney Island Hysterical Society is featured in Charles Denson's award winning book "Coney Island Lost and Found" (Ten Speed Press, Berkeley/Toronto, 2002). Additional publications include Amusing the Zillion, 24/7 Magazine, the New York Times, the Daily News, Material World, American Routes Radio and others.
Her current work expands into the larger city, exposing elements of urban life, like the under appreciated grace of an out-of-the-way tire shop and other themes of urban and popular culture. In addition she is re-visiting her 'Aquatic series", an earlier body of works which look below into the quirky and whimsical coral cities of life beneath the sea.
To see more of Ms Marano's work, vist her web site: .com