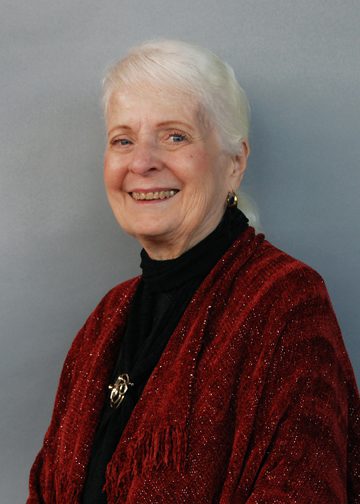 Rhoda is an artist who works primarily with fabrics. She has drawn, painted, sewed fabric, knitted, crocheted, embroidered, and done some form of art as long as she can remember. Following retirement from her career as a university professor of Biology, she took several quilting classes and felt compelled to make fabric wall hangings. She joined the Fiberarts Guild of Pittsburgh and began taking workshops with nationally known artists in which she learned a variety of techniques which she uses to design her own works of fabric art.
Rhoda, as a biologist, is fascinated by the patterns and colors which occur in nature and she produces patterns on fabric by hand dyeing, bleach discharging, and rust-printing. She then "paints" with these patterned fabrics, assembling them and commercial fabrics which complement her own fabrics into works of art. She sometimes incorporates digital images into her art work as well.
Rhoda's work has been juried into more than 60 fine art exhibits and several pieces have been awarded prizes. She has had ten solo shows in Maryland, Pennsylvania and Florida. Her "Pretzels & Champagne" was chosen for the book 500 Art Quilts published by Lark Books in 2010 and three pieces were chosen for 1000 Quit Inspirations published by Quary Books in 2015. Her art works are in a number of private collections in several states. She belongs to the Studio Art Quilt Associates, the Modern Quilt and the Friendship Knot Quilt Guilds of Sarasota as well as the Womens' Contemporary Art group of Southwestern Florida.