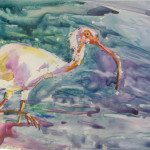 The Arts have always been a huge part of my life, but painting is my passion. Getting lost in the process, learning and creating something meaningful and/or beautiful is like a drug. Magically, this experience is different every single time.
"When you are working well and all your instinctive powers are in operation, you don't know why you do the things you do." – Dorothea Lange
When it's right, you feel it in your heart and soul.